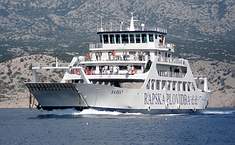 Rapska plovidba d.d. is a local ferry boat company with its headquarter on the island Rab. The main activity of the company is to connect the island of Rab with the mainland by ferry boats. This connection was established in 1963.
Rapska plovidba d.d. has four ferryboats: "Barbat", "Sveti Marin", "Sveti Kristofor" and "Rab" on the "Stinica - Mišnjak" route, which lasts less then 18 minutes.
Besides the route "Stinica - Mišnjak" Rapska plovidba d.d. has the boat "Maslina" on the passenger route Rab-Lun on the island Pag.
The activities of Rapska plovidba d.d include crane service in the port of Rab and the dry marina Palit, 600 m from the port of Rab, where space for more than 100 boats can be found.